Proposed Rides
Rides with no confirmed dates, dependent on interest:
Overnighter 1770/Rocky
Dorrigo NSW
Paint Ball Therapy!!!
Townsville 2020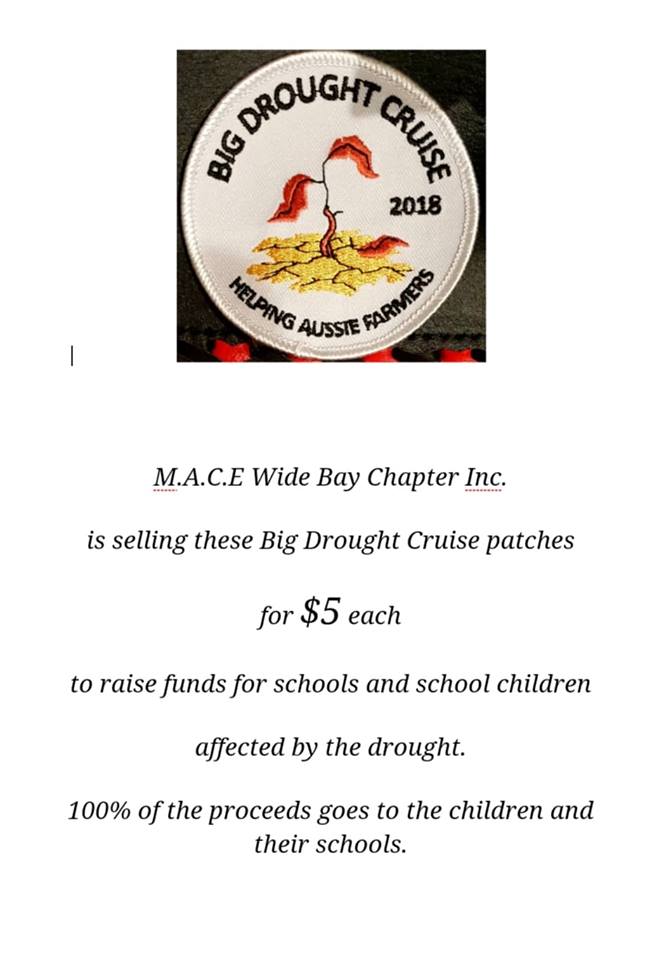 MACE Drought Patches - Only $5.00
All proceeds to a drought affect school To order
E-mail: barra@mace.com

Independent Rider Event Summary 2019
Toy Run Art Competition FCFN 2018
Winning design The medals
Local Drug Action Team
LDAT Workshops (Info Sheet)
More information on LDAT Teams
Latest Update on LDAT 11/12/2018
276 Kent St Ind Riders Workshops

Rides Postponed/Delayed
Bi-Annual Foundation Ride
Oktoberfest Defer to 2018/19

Interested in mid week day rides?
Email: Here
Tours
Vegas BikeFest Itinerary
Rides 4 August
Known rides for the the coming month or so:

Do you need more information on our Day or Weekend /Overnight Rides? Then phone:
Wide Bay/Fraser Coast
Julie 0400 690981 or email
Michael 0409 575284 or email
Mark 0450 940169 or email

Capricorn Coast Ride Calendar
Debbie Foster 0421 114630 email

Brisbane Moreton Bay Ride Calendar
Jan Cunningham (Mrs C) 0408 744219
Kev Cunningham (Batman) 0417 195176
E-mail Here

Darling Downs Ride Calendar
Jol Clarke 0419 746 097
Shanelle Clarke 0409 762 374
E-mail Here
Next on the Fraser Coast list (Details)
Friday 23rd August. Friday is our social night, at The Tinana Hotel, The Tinnie The Tinnie is just over the Lamington Bridge heading south. We meet up around 5.30PM. Food times, drink and food, hope to see you there. All welcome.
Saturday 24 August United Community Run See you at the Brolga Theatre car park from 7.30AM, coffee van on site. Come and show your community spirit.
Upcoming events are:
01 Sep Fathers Day Show and Shine

Other Ride Calendars
- Brisbane Ride Calendar Updated 19/06/2017